Elena Bykova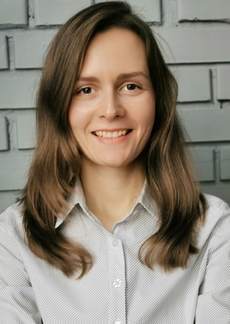 Кандидат философских наук
Address:
Tomsk, 40 Lenina Prospekt, office 221
Elena Bykova graduated from the Faculty of Philosophy of TSU in 2008 with a degree in "Social work". In 2009, she received additional higher education at the Institute of International Relations and Language Communications of TPU with a degree in "Translator in professional communication". In 2017, she get her PhD on the speciality 09.00.11 "Social philosophy". From 2018 to the present - she is the associate professor of the Department of History and Social Work of TUSUR. The author of 13 scientific articles in the field of sociology and philosophy of education.
2009-2020 - organization and conduct of sociological research in the Tomsk region, including an independent assessment of the quality of services provided by social service organizations, 2016-2019 - senior lecturer of the Department of General and Pedagogical Psychology of TSU, 2018-present - associate professor of the Department of Social Work of TSU.
Publications:
Elibrary (Elibrary AuthorID: 979135, Elibrary SPIN-код: 2143-6478)
Web of Science (Web of Science ResearcherID: AAD-7356-2020)
ORCID (ORCID ID: https://orcid.org/0000-0003-0851-0227)
Google Scholar Citations (Google Scholar Citations User: eYDW0VEAAAAJ)