Aleksandr Zorkaltsev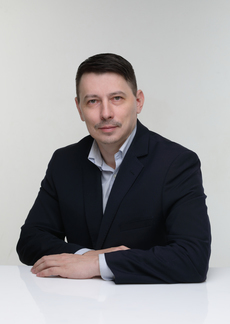 Address:
Tomsk, 74 Vershinina Street, office 406
Phone:
(3822) 70-17-38
Campus phone:
2823
Zorkaltsev Alexander Alexandrovich graduated from high school in 1991. In 1991 he entered the Tomsk Polytechnic Institute at the Faculty of Automation and Computer Engineering, Department of Computer Engineering (CT).
In 1995, he defended his bachelor's degree, received a bachelor's degree in computer science and computer technology in the field of "Computer science and computer technology" at the Tomsk Polytechnic University and continued his studies at the TPU Master's program from 1995 to 1997.
In 1997, he defended his master's thesis and received a master's degree in engineering and technology in the field of "Informatics and Computer Engineering", specializing in "Microprocessor Systems".
Since 1996, he worked as a "Programmer Engineer" at CJSC "EleSy".
From 2000 to 2003, he worked as an assistant at the Department of Computer Science of the AVTF TPU.
Technical director of SKB Signature.
Head of R&D within the university programs of Intel, Altera, National Instrument.
Development of architecture, software and management of hardware development for the TOKAMAK KTM synchronization system, Kurchatov, Kazakhstan. With the development of Altera FPGA-based PMC modules and an optical multi-channel splitter.
From 2000 to 2004 he worked at the Research Institute of Nuclear Physics at TPU in Laboratory N23 in the positions of Jr. scientific employee, researcher, art. scientific employee, work manager and responsible contractor for the development of control systems for automated control systems for physical installations of ion-plasma processing of materials of the "Opal" series, including in international projects.
From 2003 to 2007, he worked at the EleSi-TUSUR Research Institute as a programmer, and then as the head of the embedded software development sector.
In 2007, he was transferred to NII EleSy LLC as the head of the embedded software development sector.
In 2011, he was transferred to EleTeam LLC as the head of the group for the development of communication interfaces, where I currently work.
In 2014, he was registered in the Russian and international register of professional APEC engineers (APEC. Engineer Register) with the title of APEC Engineers in the field of Electronics, Electrical Engineering and Power Industry.
Research interests: Technical diagnostics, secure and distributed computing, embedded systems, network technologies, including those for the industrial Internet and real-time networks (RT Ethernet).
More than 40 scientific publications, 1 patent.
Publications:
Elibrary (Elibrary AuthorID: 1010413, Elibrary SPIN-код: 7193-7509)
ORCID (ORCID ID: 0000-0003-0322-9882)
Google Scholar Citations (Google Scholar Citations User: Vq3FgFsAAAAJ)