Gufana Narimanova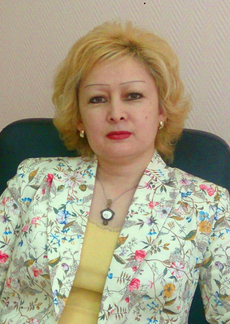 Candidate of Sciences in Physics and Mathematics, Associate Professor
Address:
Tomsk, 74 Vershinina Street, office 403
Campus phone:
2821
Phone:
(3822) 70-17-37
Narimanova Gufana Nurlabekovna - Head of the Department of Innovation Management and Dean of the Faculty of Innovation Technologies at TUSUR.
In 1996 she graduated from the Physics and Technology Department of Tomsk State University (TSU); speciality - Machine Dynamics and Strength; qualification – Research Mechanical Engineer.
In 2000 Gufana defended a PhD thesis on solid-state physics.
In 2005 she obtained the academic title of Associate Professor.
She has a diploma of professional retraining under the presidential program for the training of managers for national economic organizations with the right to conduct professional activities in the field of organization management (TSU, 2011).
The author of more than 80 scientific publications, she has patents, participates in international scientific conferences.
As part of her professional activities, she constantly improves the educational activities of the department, paying particular attention to the integration of education, research and industry. The key factors to increase competitiveness of graduates are students' research activity, implementation of project activities and involvement of students in international research and educational programs.
She is the supervisor of the Master's degree program in Innovation.
She has extensive experience in educational work and membership in the Federal Education Association in the higher education system for management in technical systems.
Since 2016 she is an approved expert in the field of verification of educational institutions and scientific organizations.
For conscientious work, Gufana Narimanova received gratitude from TUSUR management and is put on the board of honour in the Kirovsky district of the city of Tomsk. She is awarded the Certificate of Honour of the Ministry of Education and Science of the Russian Federation
Other positions:
Publications:
Elibrary (Elibrary AuthorID: 124504, Elibrary SPIN-код: 7299-8997)
Web of Science (Web of Science ResearcherID: AAE-3574-2020)
SCOPUS (SCOPUS AuthorID: 6506614420)
ORCID (ORCID ID: 0000-0002-0885-9480)
Google Scholar Citations (Google Scholar Citations User: yZPYFrwAAAAJ)